Comprehensive biomarker testing in non-small cell lung cancer (NSCLC) goes beyond your first diagnosis.
It provides important information about your specific type of NSCLC. This can help you identify the appropriate treatment plan for you.
Use this information to better understand comprehensive biomarker testing. Then ask your healthcare team if testing is right for you.
What is comprehensive biomarker testing?
Not all lung cancers are the same. Comprehensive biomarker testing can identify specific genetic "drivers" in your cancer (called biomarkers) that cause cancer to grow and spread in different ways.
The biomarkers you are tested for will depend on the stage of your non-small cell lung cancer (NSCLC). Some common biomarkers you may hear about are ALK, BRAF, EGFR, HER2, KRAS, MET exon 14 skipping, NTRK, RET, and ROS1, or proteins such as PD-L1.1
What does "comprehensive" mean?
To be comprehensive, biomarker testing must test for all biomarkers (mentioned above) that are recommended for your type and stage of NSCLC, based on the most current clinical guidelines.
Why is comprehensive biomarker testing important in lung cancer?
Knowing your biomarkers can help your healthcare team treat your unique type of cancer. Getting tested may help you find the right treatment plan.
What if my loved one is diagnosed with non-small cell lung cancer?
As a caregiver, you are a crucial part of your loved one's lung cancer journey, and it is critical to understand how comprehensive biomarker testing can inform your loved one's treatment.
It is important to know how to support your loved one before and after testing, but it is just as important to support yourself as well.
Download Our Caregiver Guide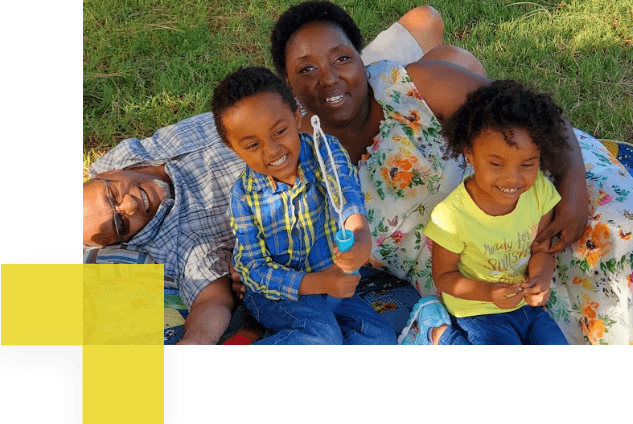 Having my family by my side during my lung cancer journey was invaluable. They were able to advocate for me, ask the questions I couldn't and take care of me in my time of need.
Shyreece Pompey
Woodland, CA
What steps can I take to get comprehensive biomarker testing?
Step 1 - Talk
Talk to your healthcare team about comprehensive biomarker testing, so you don't miss any potentially important information or options. It is important to ask for comprehensive biomarker testing so that your doctor tests for all recommended biomarkers. Explore if comprehensive biomarker testing is covered by your private insurance, Medicare, or Medicaid plan.
Step 2 - Test
Test for all recommended biomarkers that could be causing your non-small cell lung cancer to grow and spread. Comprehensive biomarker testing results can take 4 weeks or longer, but can help your healthcare team understand more about your specific type of cancer.
Step 3 - Treat
Comprehensive biomarker testing results can help inform your individualized treatment plan. Be sure to talk to your healthcare team about treatment options specific to your cancer type.
How is comprehensive biomarker testing done?
Comprehensive biomarker testing can be performed using either a biopsy or in some cases a blood test.
A biopsy removes tissue from a tumor to be tested and is currently the most common procedure for biomarker testing.
A blood test (also known as a liquid biopsy or plasma test) examines DNA in the bloodstream that has been shed by tumor cells.
After the tumor tissue or blood is collected, it is sent to a laboratory for testing.
What do my comprehensive biomarker testing results mean?
Once your comprehensive biomarker testing is complete, your healthcare team will explain your results to you and help you understand your testing report.
What if I don't test positive for any biomarkers?
There is treatment available for everyone diagnosed with lung cancer regardless of whether or not you test positive for biomarkers. You may not have any biomarkers that currently have an approved treatment. However, new treatments are continually being developed, and your testing results may make you eligible for a future treatment option or an available clinical trial.
Take an active role in your healthcare decisions.
Know your rights for biomarker testing.
There are several different biomarkers. Identifying the specific biomarkers you may have is the only way to get a fully informed diagnosis. It's your right to know.
Image
Image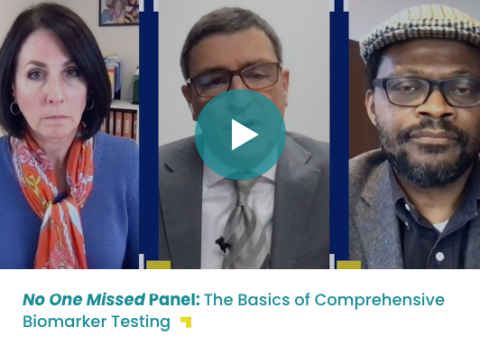 Image
Image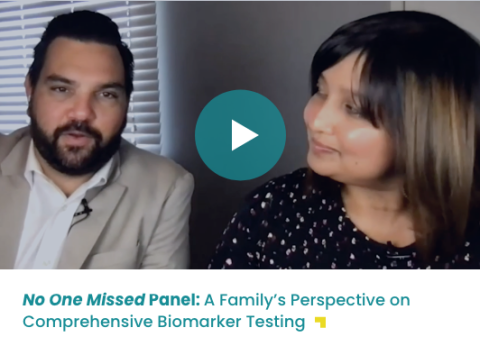 Image
Image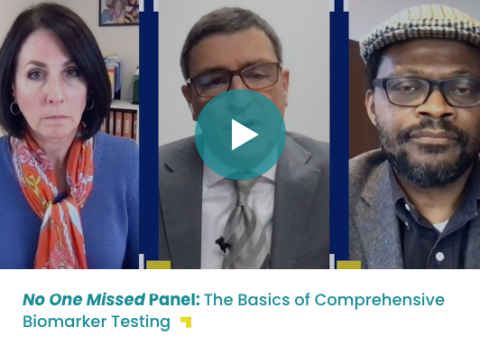 A family's biomarker story
"When my soon-to-be husband was diagnosed with stage IV lung cancer at age 29, I knew I needed to be strong for him. So I did my research, and we learned that the results of his comprehensive biomarker test made him eligible for targeted therapy."
Emily Huff
Franklin, TN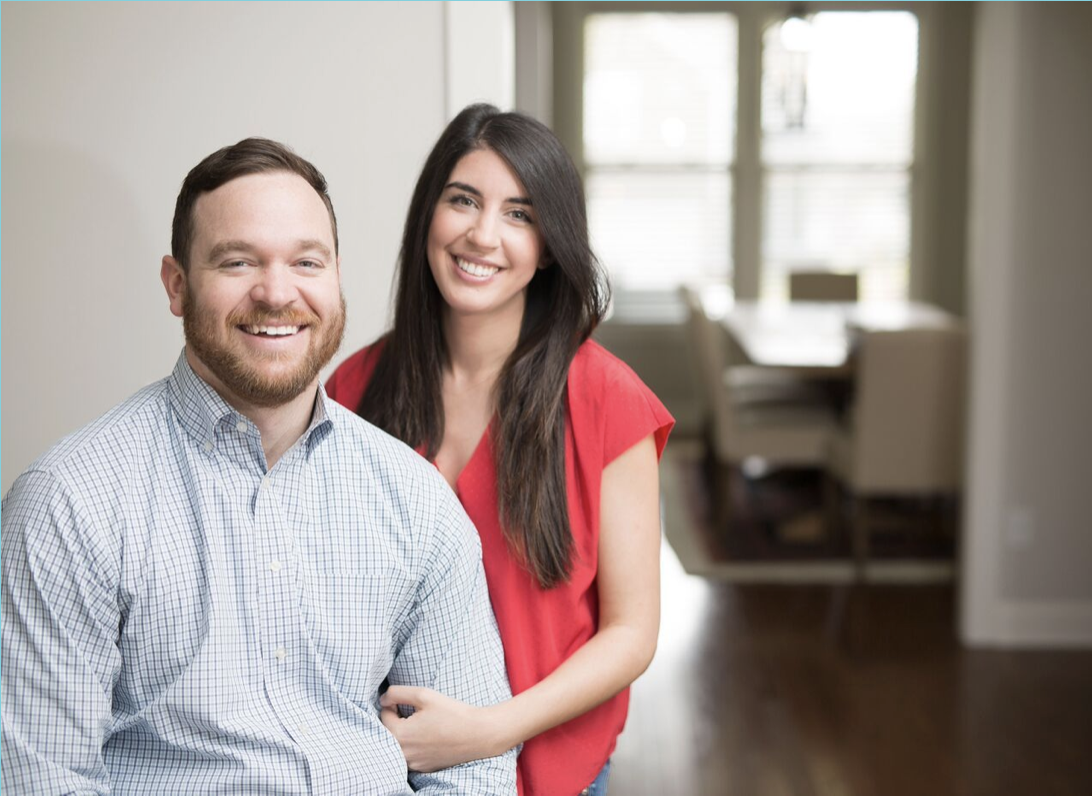 Stay Informed
Stay informed of the latest news on lung cancer
We'll send you periodic emails with news about comprehensive biomarker testing in non-small cell lung cancer, research updates, and events.
Spreading Awareness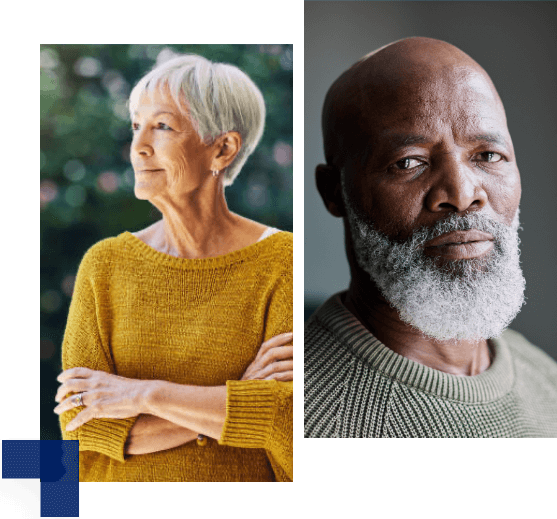 Spread the Word
Share Your Story
Spread the word about the importance of biomarker testing
Download and print the sign below and add your biomarker. Then, share your story on your social media about the impact that biomarker testing had on your treatment using #KnowYourBiomaker.
Print the sign
Here are some of our favorite examples of people sharing their #KnowYourBiomarker story
Image

Image

Image

Image

Image

Image
Looking for more information?
About No One Missed
No One Missed is a community-led campaign driven by LUNGevity Foundation and with support from patient advocacy and pharmaceutical organizations. The campaign's mission is to build public awareness of comprehensive biomarker testing as a critical part of every non-small cell lung cancer (NSCLC) diagnosis and empower NSCLC patients to discuss comprehensive biomarker testing with their healthcare team.
We envision a future that ensures there's No One Missed when it comes to comprehensive biomarker testing in NSCLC. It's critical to getting a fully informed diagnosis.